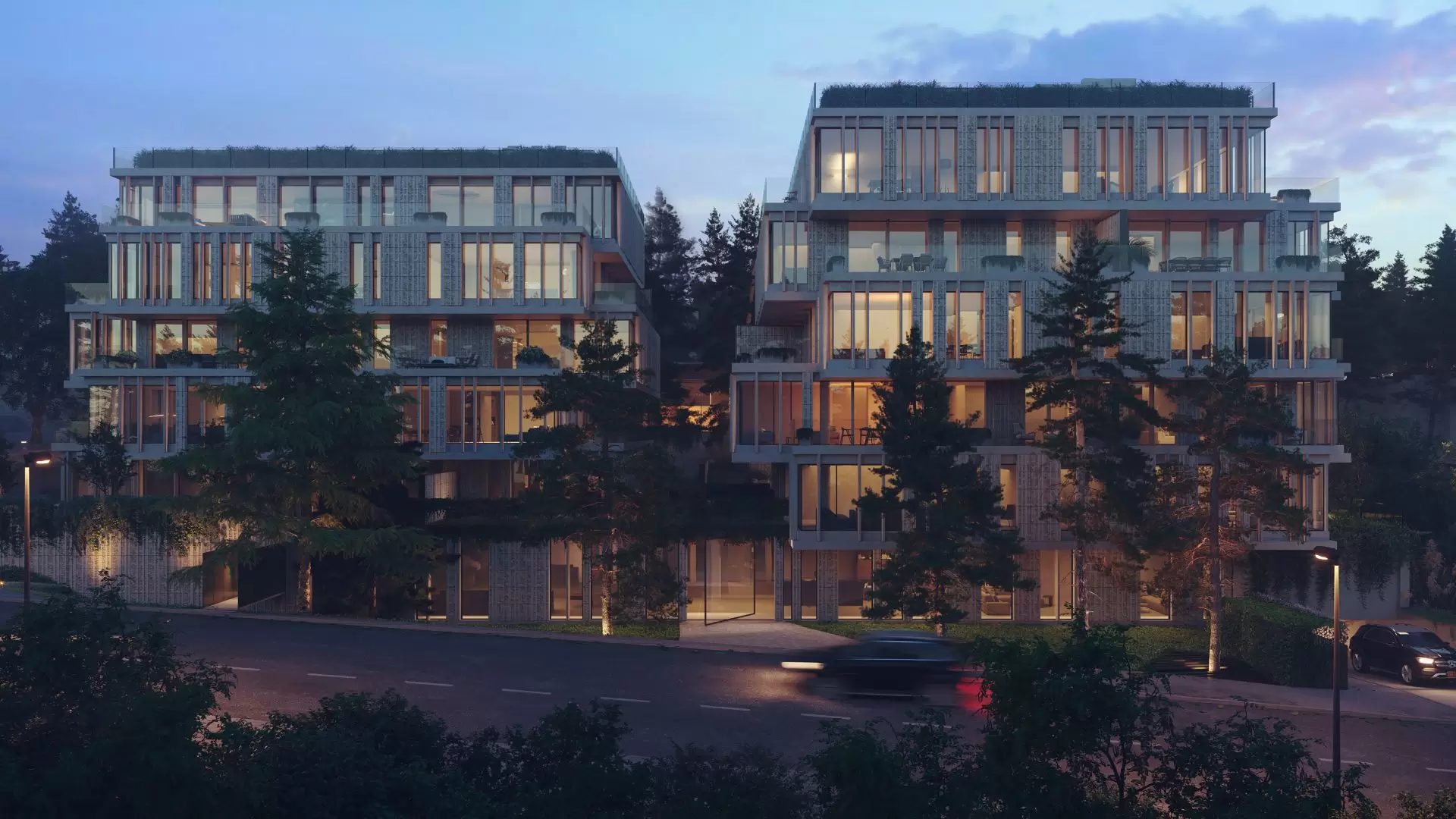 Dubnov 1 , Talbiya
ONE DUBNOV is surrounded by many major cultural institutions of Jerusalem, such as the Jerusalem Theater, the Van Leer Institute, the President's Residence and many more.
ONE DUBNOV perfectly mixes legacy materials and modern design: Jerusalem stone in association with a unique modern and minimalist design. The architecture of ONE DUBNOV blends into this affluent neighborhood with elegance and ease.
Two buildings of 12 apartments each, share a spacious common lobby of approximately 350 SQM.
Two elevators per building by KONE (four elevators in total) for a waiting time of no more than 30 seconds. The building's façade is a combination of concrete, sculpted Jerusalem stone in different sizes and other finishes to mark its vertical originality. Exceptional sound insulation between the apartments
with 60cm thick floors. All terrace fences are made completely of glass with an invisible structure.
Each floor has a different layout and surface, at ONE DUBNOV, each apartment is unique. All apartments are spacious and comfortable, designed with meticulous attention to detail and all have large and spacious terraces (from 35 SQM to 320 SQM) covered with 2 centimeters thick tiles raised on supports or private gardens. 22 of the apartments can accommodate a kosher sukkah.
The ceiling height of 2,95 meters is unrivaled in modern constructions.
Visit us at onedubnov.com
Apartments available
| Property type | Floor | Rooms | Property Size-SQ.M/SQ.FT | Outdoor space | Price | Attachment |
| --- | --- | --- | --- | --- | --- | --- |
| Building A | | | | | | |
| Apartment A1 | 1 | | | | Sold | |
| Apartment A2 | 1 | | 162/1743.75 | 202 | Price upon request | View |
| Apartment A3 | 1 | | | | Sold | |
| Apartment A4 | 2 | | | | Sold | |
| Apartment A5 | 2 | | 218/2386 | 38 | Price upon request | View |
| Apartment A6 | 2 | | 185/1991 | 42 | Price upon request | View |
| Apartment A7 | 3 | | | | Sold | |
| Apartment A8 | 3 | | | | Sold | |
| Apartment A9 | 3 | | | | Sold | |
| Apartment A10 | 4 | | 206/2217.37 | 31 | Price upon request | View |
| Apartment A11 | 4 | | 177/1905.21 | 36 | Price upon request | View |
| Apartment A12 | 5 | | | | Price upon request | |
| | | | | | | |
| Building B | | | | | | |
| Apartment B1 | 1 | | | | Sold | |
| Apartment B2+3 | 1 | | 253/2723.27 | 297 | Price upon request | View |
| Apartment B4 | 2 | | 157/1689.93 | 46 | Price upon request | View |
| Apartment B5 | 2 | | | | Sold | |
| Apartment B6 | 2 | | 106/1119.45 | 38 | Price upon request | View |
| Apartment B7 | 3 | | | | Sold | |
| Apartment B8 | 3 | | 151/1625.35 | | Price upon request | |
| Apartment B9 | 3 | | | | Sold | |
| Apartment B10 | 4 | | | | Sold | |
| Apartment B11 | 4 | | | | Sold | |
| Apartment B12 | 4 | | | | Sold | |
| Apartment B13 | 5 | | | | Sold | |